Where to find us.
Yellow Wall Farm Stand: Ocean St. Extension at Graham Hill Road, Santa Cruz. (Click for hours.)
Yellow Wall Farm produce can be found seasonally at the restaurants listed below.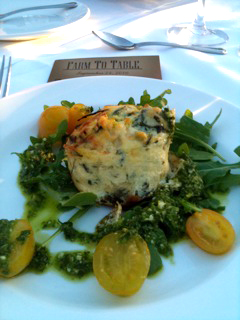 Carried Away: Fine Foods to Go & Catering, Aptos

Johnny's Harborside at the Santa Cruz Harbor

Linwood's Bar & Grill (including their farm-to-table dinners) at Chaminade Resort & Spa. (Pictured at right.)

Olitas Cantina & Grille on the Santa Cruz Wharf

Ristorante Avanti on Mission Street, Santa Cruz

Sanderling's at Seascape Resort, Aptos
You can also find us in New Leaf Community Markets in Santa Cruz, Santa Clara, and San Mateo counties.
What We're Growing.
We are committed to agricultural conservation and excellence in quality in our produce. Our criteria is for excellence includes flavor, color, smell, feel, and taste. Our 2012 crop list is below. Chefs or buyers, please call or email for prices and weekly availability.
FRUIT

PEARS (August - September)
Asian Pears
Comice Pears
Warren Pears

APPLES (August - November)
Red Gravenstein
Cox's Orange Pippin
Golden Delicious
Granny Smith
Mutsu
Pippin

KIWI (December - January)

FUYU PERSIMMON (November)

BLOOD ORANGES
(February - April)

HERBS

Mint (Year 'round)

Basil (August - November)

Rosemary (Year 'round)

Sage (Year 'round)

Savory (Year 'round)

VEGETABLES

TOMATOES
(August - November)

Early Girl
Cherokee Purple
Brandywine Red
Brandywine Yellow
Persimmon
Marvel Stripe
Aunt Ruby's German Green
Roma
Sun Gold (cherry)
Red (cherry)


PEPPERS
(September - November)

Bell

Cal Wonder

Gourmet (orange)

Sweet non-bell

Marconi - Yellow

Jimmy Nardello

Hot

Ancho Manifico (mild Poblano)
Habanero
Early Jalapeño

VEGETABLES

BEANS (August - November)

Romano
Green Snap Bean - Fortex
Yellow Wax Bean - Rocdor

BEETS (August - October)

Chioggia
Golden - Touchstone Gold

CHARD
(August - November)

CUCUMBERS


(August - September)

Marketmore
Diva (thin skinned seedless)
Lemon
Northern Pickling

EGGPLANT




(August - October)

LETTUCE
(May - December)


Red Cross - Red Butterhead - Full Head
Buttercrunch - Full Head and Gourmet Mix
Bambi - Green Romaine/Cos

- mini
Nancy - Green Butterheadfull head
Panisse - Green Oakleaf - full head or mini
Claremont - Green Romaine/Cos - mini
Breen - Red Romaine/Cos mini

ONIONS

Walla Walla (August - November)
Red Onions
Rosa di Milano (August - September)
Red Creole

SUMMER SQUASH
(August - September)

Zucchini - Green
Patty Pan mix
Round small mix

WINTER SQUASH
(October - December)

Butternut
Carnival
Delicata
Green Acorn
Kabocha - Orange
Buttercup