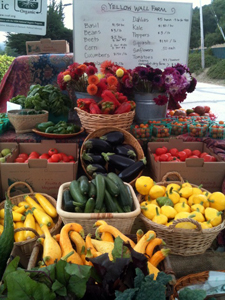 Our Farm Stand.
One of the goals and dreams for our farm has been to sell as close to home as possible. Our farm stand is a dream come true. Selling to friends and neighbors has become more than we even hoped for. We love feeding our friends and neighbors and making new friends each week.
Our farm stand is at the front end of our road (Ocean St. Extension) in front of the Cemetery; the nearest cross street is Graham Hill Road. Find us with this Google Map.
We are open on Saturdays from 9:00am-1:00pm:
August thru mid- November.
Follow us on Facebook to get delicious photos and details on what is happening throughout the seasons.